2 CHANNEL AIR DIFFERENT EQUIPMENT TO GENERATE STANDARD GAS CONCENTRATION
Thông số cơ bản
| | |
| --- | --- |
| Tiêu chuẩn: | ISO6145-7 |
| Ứng dụng: | Capable of precise gas dilution, gas sample concentration dilution or mixed gas supply to the reactor. |
| Công nghệ phân tích: | Mass Flow Controller |
| Nhà cung cấp: | ALYTECH |
| Model: | ZEPHYR |
Công Ty TNHH Beta Technology chịu trách nhiệm phân phối chính hãng, mọi thắc mắc xin liên hệ số điện thoại 0903.042.747 hoặc email sales@betatechco.com để được hỗ trợ!
A new lease of life for dilution!
Zephyr, the latest addition to AlyTech's GasMixTM range, makes dilution even easier and more accessible! It is the right tool for laboratories looking for an economical and accurate solution to their calibration needs.
Its 5-inch /13 cm touch screen allows you to control 2 mass flow controllers in order to prepare standard gases to order, from a concentrated gas and a diluent gas. These mixtures and dilutions can be programmed into sequences that automatically establish a multipoint calibration line, recreate atmospheres, and many other applications.
Its advantages:
Easy to use

Small and transportable

Reduced user time

Calibration curves adapted to each gas used

Customizable gas inlets and outlets
Zesoft, its dedicated software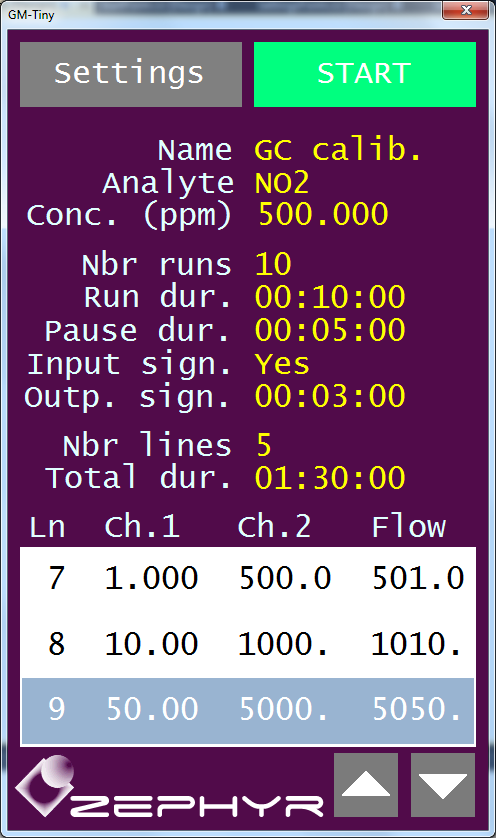 This software developed for the needs of Zephyr automatically manages the punctual injections of gas or in pre-programmed sequence, with or without replicas. The uncertainty associated with the final concentration is calculated by the software based on the flow rate used and the uncertainty of the initial concentration. Thanks to 2 dry contacts, the software can be waiting or send a signal, for example to control an external valve or launch an analyzer.
NEW: Intelligent creation of sequences: the user fills in the number of points, as well as the maximum and minimum concentrations of his range, and the software automatically proposes each level of concentration.
Application: creation of gas standards by mixing 2 gases or dilution.