AIR ZERO 3 CHANNEL & 1 CHANNEL AIR ZERO
Thông số cơ bản
| | |
| --- | --- |
| Tiêu chuẩn: | ISO 6145-7 |
| Ứng dụng: | About the Environment to monitor air quality |
| Công nghệ phân tích: | Mass Flow Controller |
| Nhà cung cấp: | ALYTECH |
| Model: | ATMO |
Công Ty TNHH Beta Technology chịu trách nhiệm phân phối chính hãng, mọi thắc mắc xin liên hệ số điện thoại 0903.042.747 hoặc email sales@betatechco.com để được hỗ trợ!
Calibrate 3 analyzers in a row automatically!
GasMix™ ATMO was developed according to specifications written in partnership with two laboratories of the ATMO network: the national network of Approved Air Quality Monitoring Associations. This dilutor makes it possible to calibrate 3 analyzers one after the other, automatically. In practice, it is a dilutor equipped with 2 Mass Flow Controllers (RDM) and a valve system to select one of the 3 inputs dedicated to the gas to be diluted associated with one of the 3 outputs of the GasMix™.
Suitability for CEN standards: Repeatability and linearity testing of SO2, NO-NOX and CO analysers is simplified and automated.
The GasMix™ ATMO software includes all the characteristics of the Aiolos software (automation, uncertainty calculation, flow monitoring, etc.), adding an additional feature to select during sequence creation, one of the 3 standards declared in the standard library.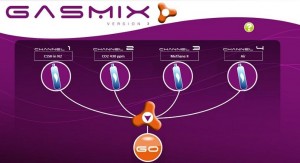 Application:
Calibration air quality analyzers SO2, NO-NOX and CO.