AUTOMATIC 2 TO 4 CHANNEL AIR MIXING AND DEVELOPMENT EQUIPMENT
Thông số cơ bản
| | |
| --- | --- |
| Tiêu chuẩn: | ISO 6145-7 |
| Ứng dụng: | Typical applications include: Environment; Chemistry; Oil; Gas & Calibration; Research; Food & Taste. |
| Công nghệ phân tích: | Mass Flow Controller |
| Nhà cung cấp: | ALYTECH |
| Model: | GMRACK |
Công Ty TNHH Beta Technology chịu trách nhiệm phân phối chính hãng, mọi thắc mắc xin liên hệ số điện thoại 0903.042.747 hoặc email sales@betatechco.com để được hỗ trợ!
Install your GasMix™ in your analytics array!
The preparation of custom standard gases for single and/or multipoint calibration can now be installed in analyzer bays thanks to GMRack, AlyTech's versatile gas mixer-diluter.
Its advantages:
Integrated computer – touch screen for simplified on-site control.
Remote control via Ethernet via the classic version of the software
FRONT USB:
→ Loading projects previously created by the classic version of the software.
→ Recovering data or modified projects on the GMRack.
The GMRack software allows either to create an entire sequence, or to modify parameters (total flow rate, final concentration of an analyte…) of a sequence previously created with the Aiolos software.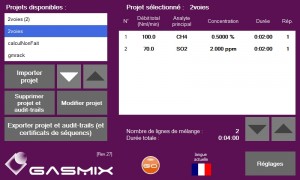 Its applications:
Online analyzer calibration.
Validation of analyzers.
Automatic gas injector for GC.
Creation of a controlled atmosphere.
Continuous supply of a reactor.
Conditioning a row before analysis.