YL9100 Plus HPLC
Thông số cơ bản
| | |
| --- | --- |
| Tiêu chuẩn: | |
| Ứng dụng: | Pharmaceutical, food, environmental, etc. |
| Công nghệ phân tích: | HPLC liquid chromatography |
| Nhà cung cấp: | Young In Chromass |
| Model: | YL 9100 Plus HPLC |
Công Ty TNHH Beta Technology chịu trách nhiệm phân phối chính hãng, mọi thắc mắc xin liên hệ số điện thoại 0903.042.747 hoặc email sales@betatechco.com để được hỗ trợ!
YL9100 Plus HPLC is a modular HPLC built to provide an exceptional cost/performance ratio. Continued research and development provide high-end performance and features, while a state-of-the-art manufacturing facility ensures outstanding quality.
YL9100 Plus HPLC is launched to meet an exceptional cost effectiveness by continued research and development. Newly improved YL9110 Plus Quaternary Pump delivers the enhanced mixing performance to provide the very stabilized baseline by reducing noise when it comes to change the solvent composition. With automatic compressibility compensation minimizing flow rate deviation in the pump, YL9100 Plus HPLC ensures superior RT repeatability by providing accurate and precise flow rates.


Features

· Ultra speed data processing by Network HPLC
· YL-Clarity designed for all you need in the lab
· Enhanced superior performance
· Versatile dedicated applications
· Accurate and reliable data
· Stylish and compact design
· Various modules available

: YL9110 Quaternary Pump / YL9111 Binary Pump / YL9112 Isocratic Pump
: YL9101 Vacuum Degasser
: YL9131 Column Compartment
: YL9120 UV/Vis Detector
: YL9140 FL Detector
: YL9160 PDA Detector
: YL9170 RI Detector
: ZAM 4000 ELS Detector

YL911x Plus Pump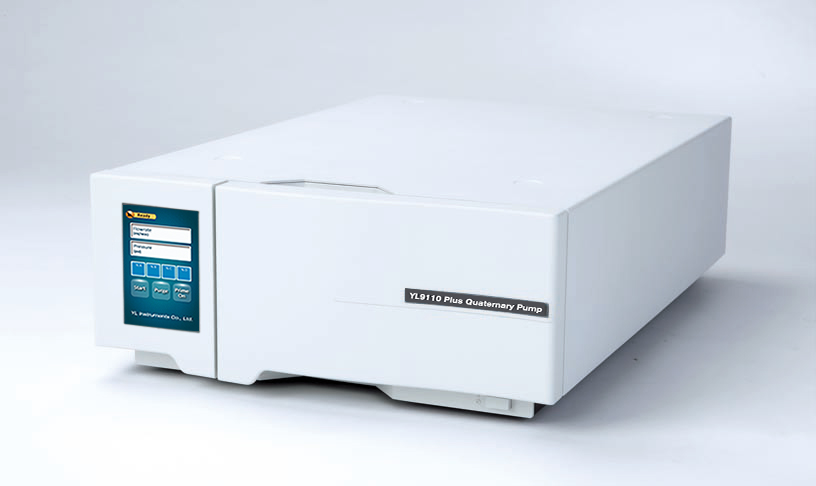 A powerful LCD control pad added to YL911x Plus Pumps provides easy-to-get ready status with a finger tab and monitors a pump without a software. YL9110 Plus Quaternary Pump enables delivery of the superior repeatability with the more stabilized baseline when it's in the gradient condition.

· Smart Control
Setting any factors or pressing 'Purge' button, you can easily set the flow rate or solvent composition. Also, you can monitor the pressure and status of pumps.

· Fully Automatic Prime
You only need to set the solvent composition and press 'Prime On'. It'll automatically flow each solvent at 100% to remove bubbles or change the solvent in the flow path and then get back to the set composition rate to be ready.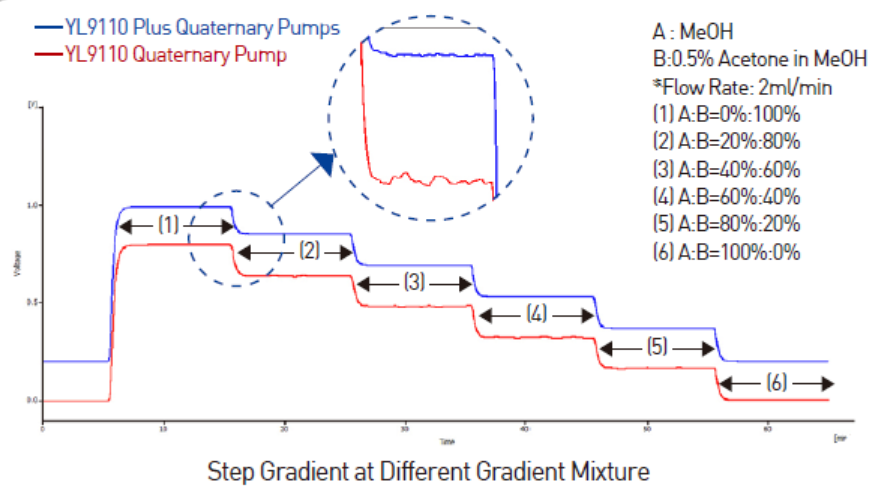 YL9150 Plus LC Autosampler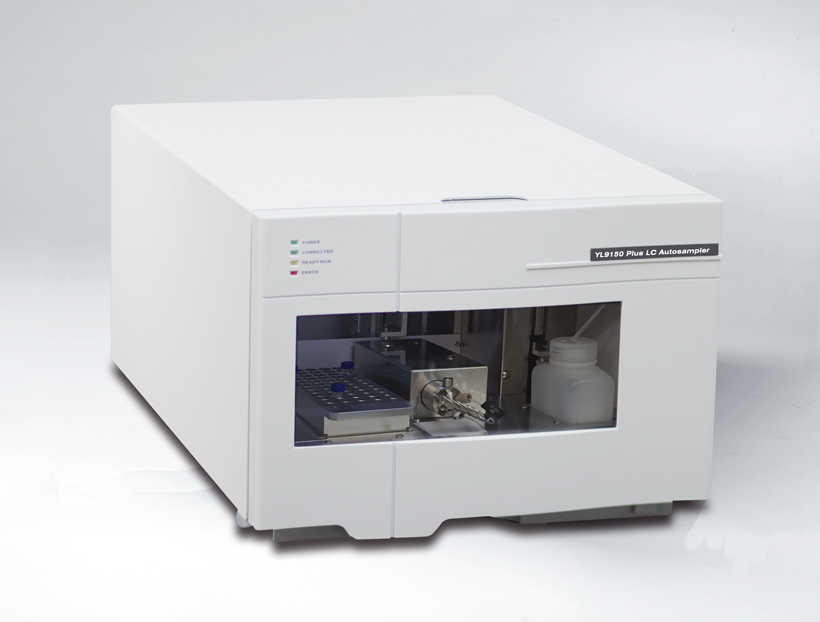 Newly launched YL9150 Plus LC Autosampler developed by our own technology can provide the enhanced efficiency of analysis with fast injection and enlarged sample capacity. The spray-type rinsing reduces the carry-over by washing off the contamination and the direct injection leads the low sample consumption. The leak sensor and the automatic tray sensor ensure the process safety as well as the LED inside of equipment allows users to see its operation.

• Sample Capacity : Up to 120 samples (2 ml vial), 80 samples (4 ml vial)
• Carry Over : < 0.04% with standard wash
Typically < 0.02% with extra wash
• Reproducibility : RSD < 0.3% for full loop injections
RSD < 0.5% for partial loopfill injections (Injection volume > 5 μL)
RSD < 1.0% for μl pick-up injections (Injection volume > 5 μL)
• Injection Volume : 1 μL – 400 μL, with 0.1 μL increment
• Sample Cooling : 4 °C ~ 40 °C (option)