EQUIPMENT TO MIX Gas and Liquid to PPB
Thông số cơ bản
| | |
| --- | --- |
| Tiêu chuẩn: | |
| Ứng dụng: | Generate standard gas at different concentrations for applications in Oil & Gas, Environment |
| Công nghệ phân tích: | Mass Flow Controller |
| Nhà cung cấp: | ALYTECH |
| Model: | LIQMIX CASCADE |
Công Ty TNHH Beta Technology chịu trách nhiệm phân phối chính hãng, mọi thắc mắc xin liên hệ số điện thoại 0903.042.747 hoặc email sales@betatechco.com để được hỗ trợ!
Spreading a gas analyzer from a liquid solution is now possible!
New fields of study require gas standards that are not commercially available in cylinders: siloxanes, BTX (Benzene, Toluene, Xylenes), and other solvents or organic mixtures. For these applications we have created LiqMix, which allows a liquid solution to evaporate in a controlled way in a gas stream in order to generate a gas standard at different concentrations.
Its advantages:
Creation of gases not available on the market.

Its heated line that avoids condensation phenomena.
LiqMix software :
Our dedicated LiqMix software continuously controls mass flow controllers and automates the generation of gas mixtures in a pre-programmed sequence. Thanks to relays, the software can be controlled remotely, or send a signal, for example, to control an external valve or start an analysis cycle. This automation reduces user time.
The software also manages the temperature instructions of the evaporator and the heated line, thus ensuring that the gas phase is maintained until the inlet of the analyzer or process. User-friendly and intuitive, the software is quickly mastered. It also integrates a monitoring function, the Audit Trail, for total traceability of the operations carried out. All sequences can be recorded to be recalled at any time.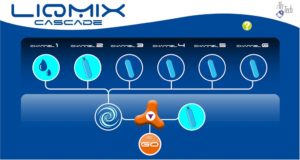 Its applications:
Calibration of analyzers: GC, automotive industry analyzers, petrochemical analyzers…
Generation of standards for biogas analysis.
Creation of standards for the analysis of Volatile Organic Compounds (VOCs).
Calibration of analyzers for the characterization of air handling systems.