MOBILE GAS CALIBRATION EQUIPMENT
Thông số cơ bản
| | |
| --- | --- |
| Tiêu chuẩn: | ISO 6145-10 |
| Ứng dụng: | Produces very pure calibration gas; Applications in Petroleum, Environment |
| Công nghệ phân tích: | Mass Flow Controller, Permeation Tube |
| Nhà cung cấp: | ALYTECH |
| Model: | PerMix ATMO |
Công Ty TNHH Beta Technology chịu trách nhiệm phân phối chính hãng, mọi thắc mắc xin liên hệ số điện thoại 0903.042.747 hoặc email sales@betatechco.com để được hỗ trợ!
Portable standard gas generator for multipoint calibration!
Using permeation technology combined with precise mass flow controllers and an integrated zero air generator, PerMix ATMO is the only complete calibration solution that can be used in the laboratory, mobile laboratory or remote laboratory.
Including a built-in computer, pumps, mass flow controllers, and a battery, this portable device contains all the elements for autonomous operation.
PerMix ATMO produces a precise and repeatable standard gas at the desired concentrations up to very low contents.
Its advantages:
Complies with ISO 6145-10

Rugged, portable and battery-powered

No stabilization time: temperature and flow rates are maintained during transport

A touch screen makes it very easy to use, even by non-technical staff

An Ethernet connection allows remote handling.
Automated and Versatile: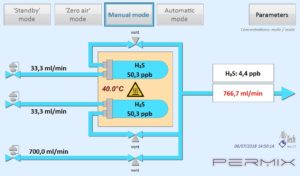 Equipped with a touch screen and user-friendly software, using the device is very simple. The user sets a sequence with the desired concentrations, the software automatically calculates the necessary flow rates. When the device is connected to the analyzer, the sequence allows the complete calibration to be performed without operator intervention.
With its two ovens with adjustable temperature and adjustable flow rates, the device can be used with most of the existing permeation tubes on the market. With the possibility of adjusting the flow rates in each furnace, it is possible to use different tubes to make gas mixtures of several components. PerMix ATMO allows dilutions up to a factor of 100 and an output rate of up to 3000Nml/min, for the realization of a wide range of concentrations.
Its applications:
Calibration and verification of the linearity of automatic measurement systems for the control of air pollutants such as NO2, SO2, CO, BTEX, H2S
Generation of standards for on-site verification of toxic gas detectors
Creation of standards for the analysis of Volatile Organic Compounds (VOCs).
Calibration of gas analyzers or chromatographs